Practical application:

1) During the roof landscape project, due to the complicated pipeline below, the traditional construction process is to pour the pipeline into the concrete, and some even expose the outside, which brings a lot of problems to the maintenance and repair of the later project, and the aesthetic effect is also extremely poor. . The universal supporter supports the hard pavement of the waterscape on the top, and the pipeline is laid under the pavement. When the maintenance is inspected, it is only necessary to open the upper pavement, which is simple and quick.

2) The wooden floor of the roof is generally laid by traditional construction techniques. Due to the wind and rain in contact with the ground for a long time, the wood is perishable and will be deformed by moisture. Moreover, the height of the traditional process of laying wooden floors has certain limitations, otherwise there will be safety risks. The traditional craft can not only meet the requirements of modern construction engineering, but also greatly reduce the aesthetics. It is more serious to reduce the service life of the wooden floor. The universal supporter not only solves the height limitation, but also ensures the convenience of drainage, and prolongs the service life of the wooden floor by a large length.

3) Landscape construction on the roof and roof, there are certain requirements for the load. Since the weight of the building itself is limited, if the traditional construction technology is used, the reinforced concrete construction is used in a large amount, which has serious harm to the building itself, and is not convenient for construction, and is more difficult, and is not conducive to the later engineering maintenance. . The universal supporter can not only reduce the weight, but also facilitate the installation, greatly shorten the construction period, and will not affect the normal work of the customer. It also plays a big role in smoothing the drainage of the roof.

The universal supporter is a new technology that has emerged in recent years and has been widely used abroad. The domestic market has not been used on a large scale, and there are fewer manufacturers on the market. The Aihemu universal supporter produced by Shanghai Qingshang Industrial Co., Ltd. is a top enterprise in China, with reliable products and stable and reliable safety performance.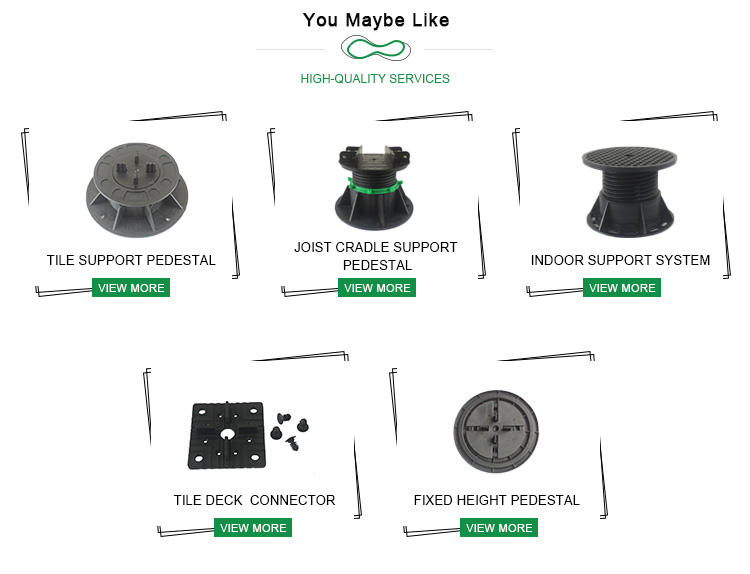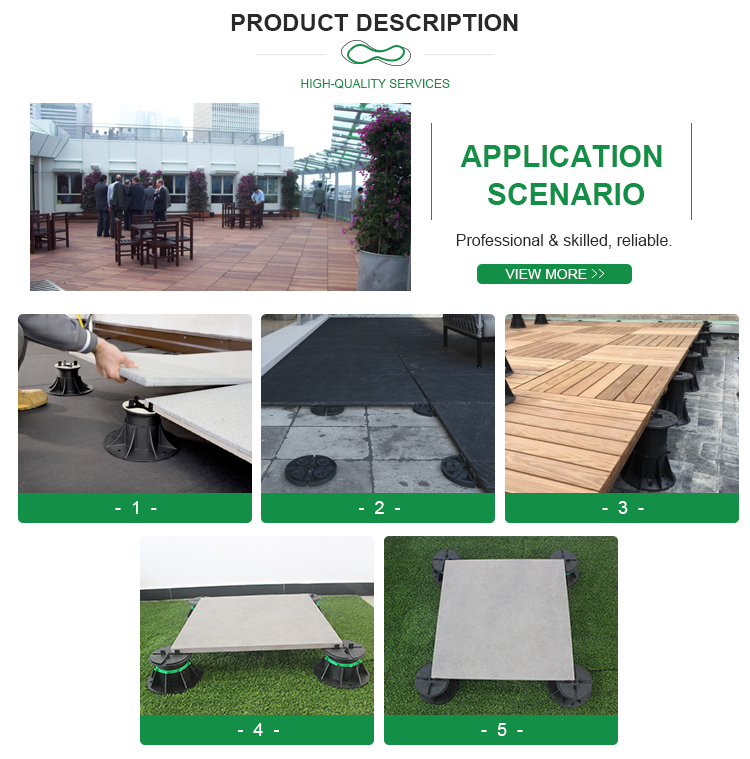 | | |
| --- | --- |
| Product Name | Taurus Adjustable Plastic Pedestals |
| Brand Name | Taurus |
| Material | 98%polypropylene(PP), 2% additives,such as polyethylene(PE),ultraviolet light absorber(UV),black masterbatch etc |
| Max Diameter | Head diameter 150mm, Extender diameter 130mm,Base diameter 200mm |
| Height Range | TA-U(19mm-75mm) ,TA-R(70mm-1360mm) ,TA-A(46mm-690mm)TA-S(55mm-180mm) |
| Colour | Black or customized colour |
| Application | Square, waterscape, roof garden, outdoor terrace, balcony, park, ect. |
1. Professional raised floor adjustable plastic pedestals system for supporting and leveling all kinds of pavers without any damage of waterproof surface.
2. Adjustable Pedestals are designed to make leveling as simple and fast as possible-just turning screw ring.
3. Contractors, designers and installers can take all advantages of pedestals to adapts leveled spaces freely, fast and accurate.
4. Adjustable plastic pedestals are designed with highest degree of professional care and conduct.
5. Minimum number of essential product elements to make all work with leveling easy and fast.
6. Adjustable plastic pedestals base with wide base plate for perfect stabilization, pedestals screw ring to easy adjust height, pedestals top head with full top plate for stability of paver tile and wood joists.
7. Wide range of pedestals :TA-U(19mm-75mm) ,TA-R(70mm-1360mm) ,TA-A(46mm-690mm)TA-S(55mm-180mm)
8. Maximum weight bearing in design capacity is 3,000kg/Pedestal.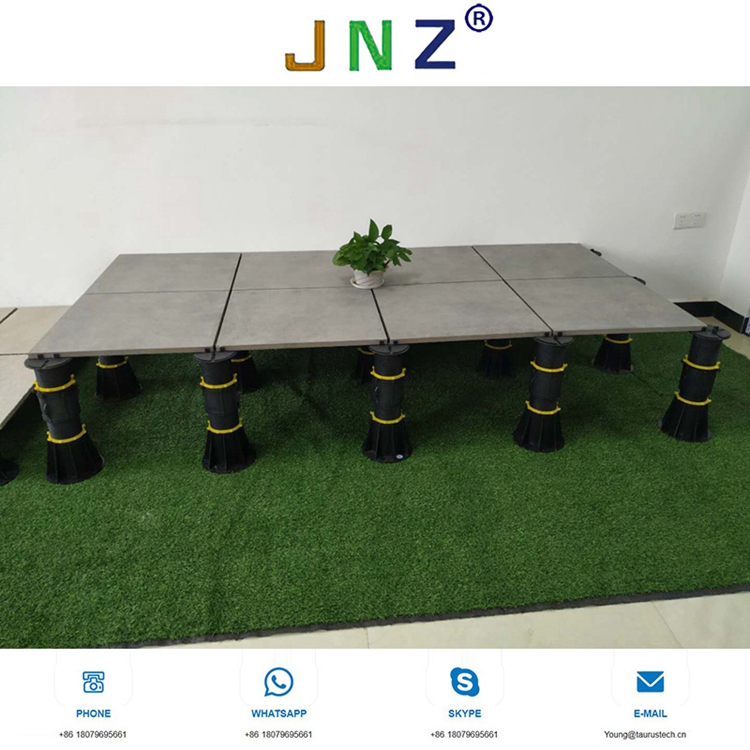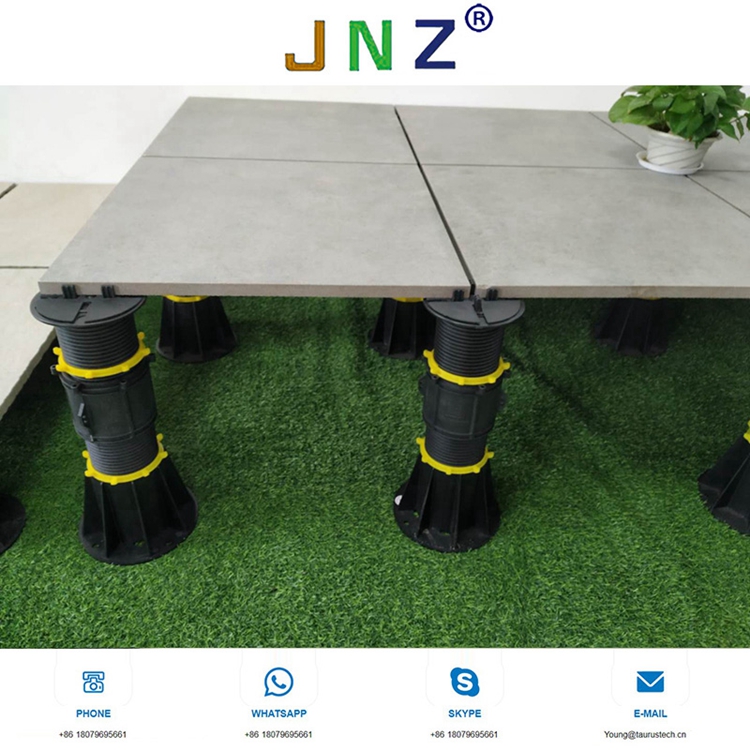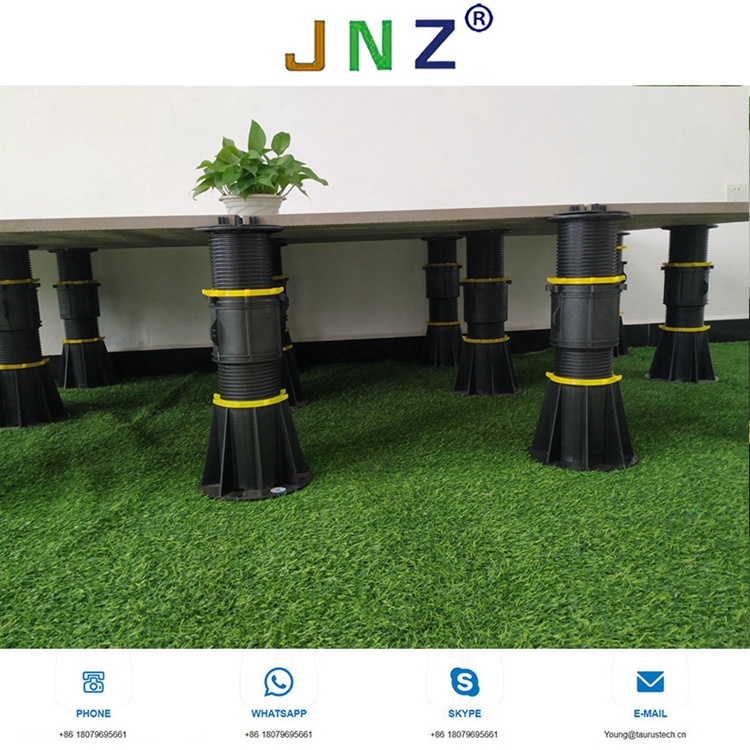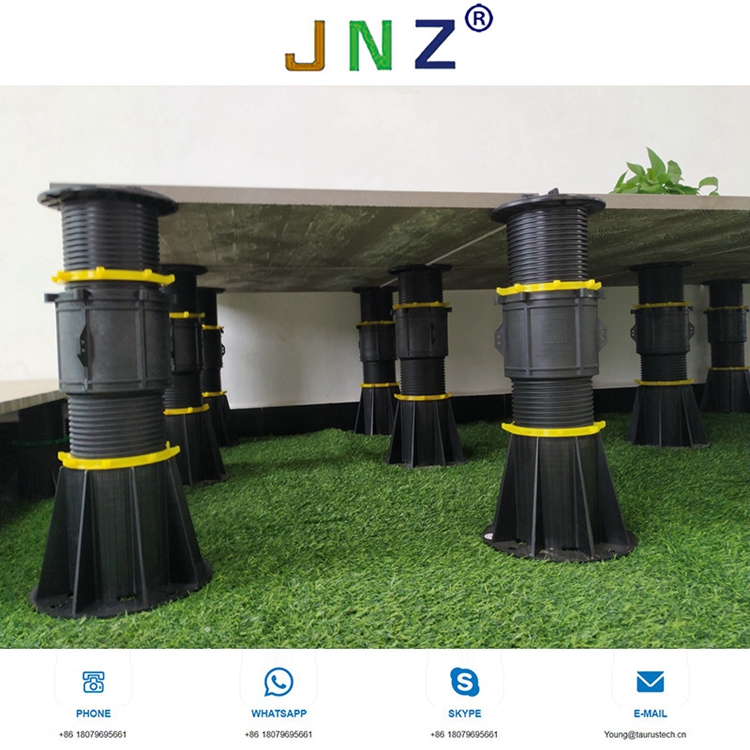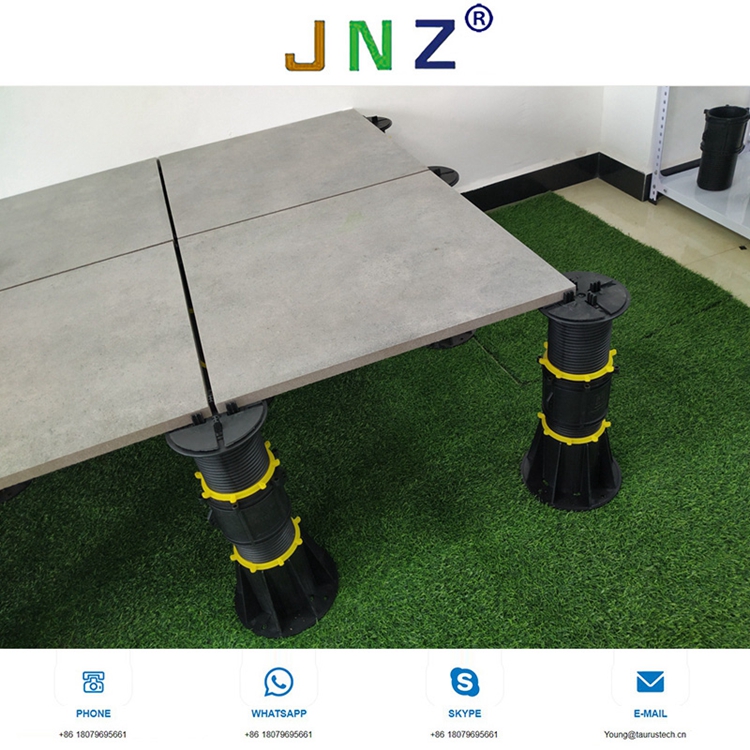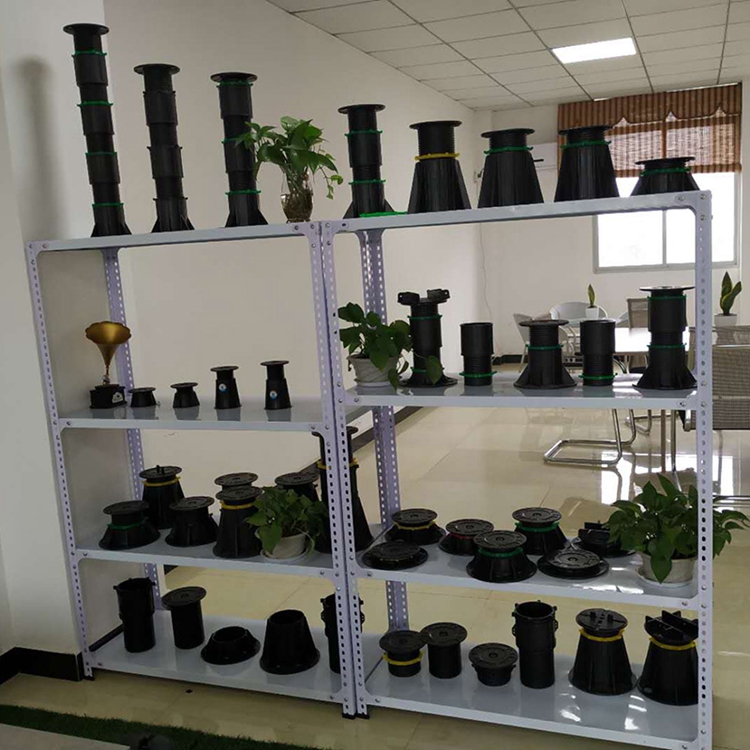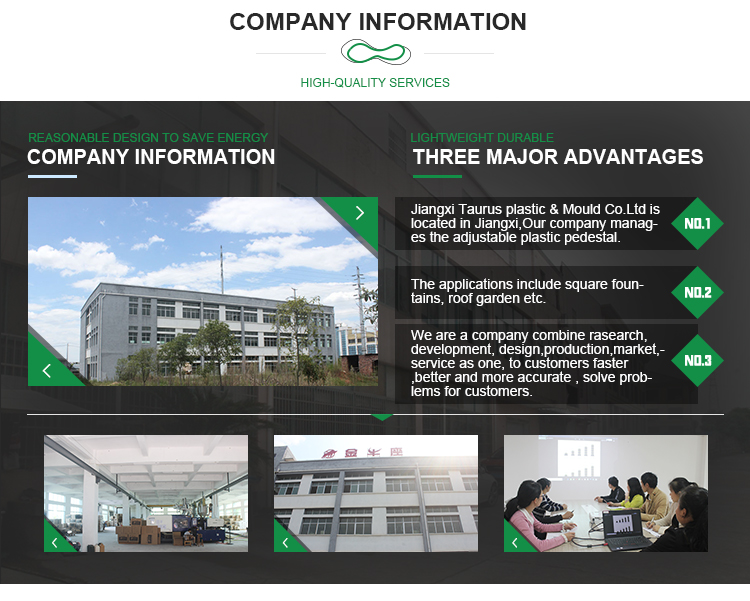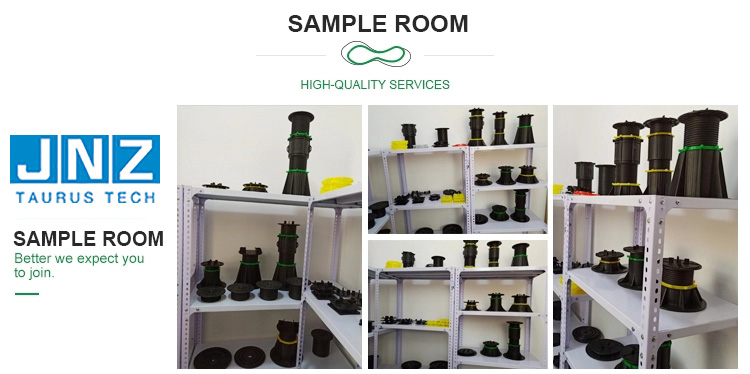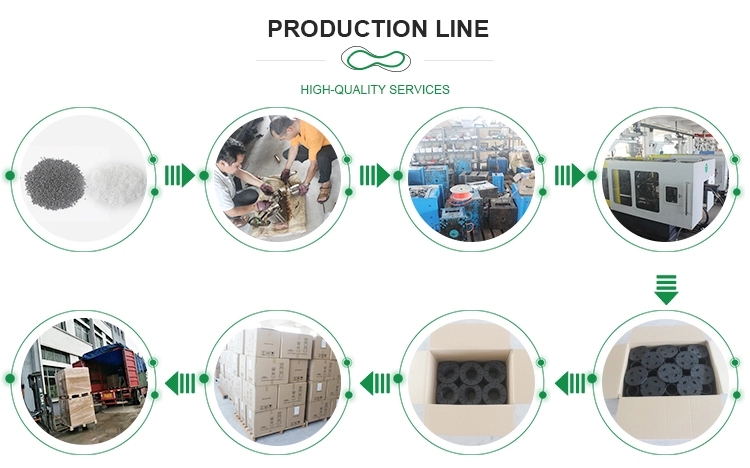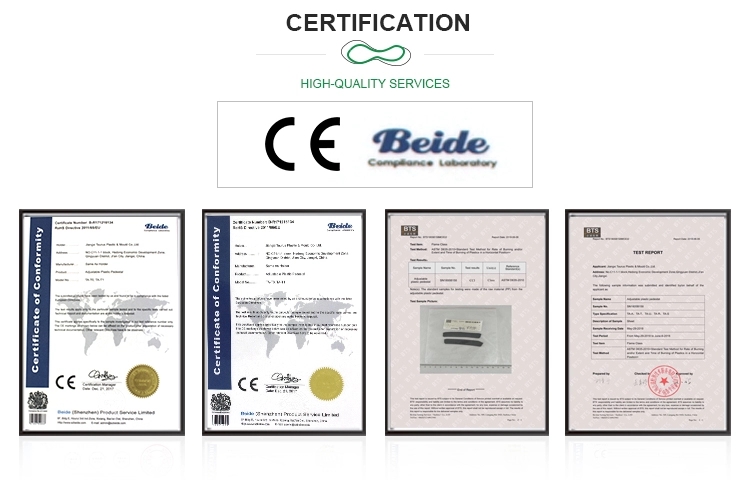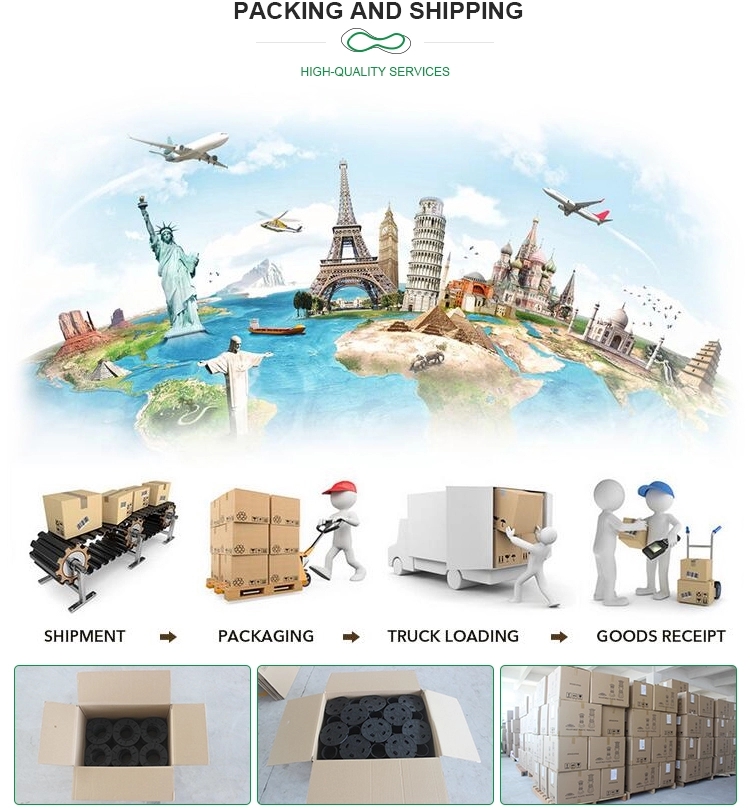 FAQ:
1. Are we factory?
Yes, we have 3,000 SQM factory, we welcome you pay our factory a visit anytime!
2. How many pcs of pedestal do I need for each SQM?
For tiles:
| | |
| --- | --- |
| Tile Size | PCS/SQM |
| 600 x 600 mm | 2-3 PCS |
| 500 x 500 mm | 4 - 5 PCS |
| 400 x 400 mm | 6 - 7 PCS |
For decking boards:
Each SQM needs 4-5 pcs of pedestal for standard installation.
3. Can our pedestal compensate slope on the ground?
Yes, we have slope corrector to compensate slope 0%-5%, making perfect leveling floor surface.
4. How long is the lead time for 20GP container?
For 20 GP container, our lead time is 5-7 days.
5. How can I get a sample?
Free samples are always available, delivery cost would be paid by buyer. We will return you delivery cost
when you place order.
Looking for ideal Access Flooring Accessories Manufacturer & supplier ? We have a wide selection at great prices to help you get creative. All the Accessories Plastic Support are quality guaranteed. We are China Origin Factory of Flooring Accessories Plastic Support. If you have any question, please feel free to contact us.